Humminbird Helix 10 Review (Featuring 360 Degree Imaging & Autochart Live)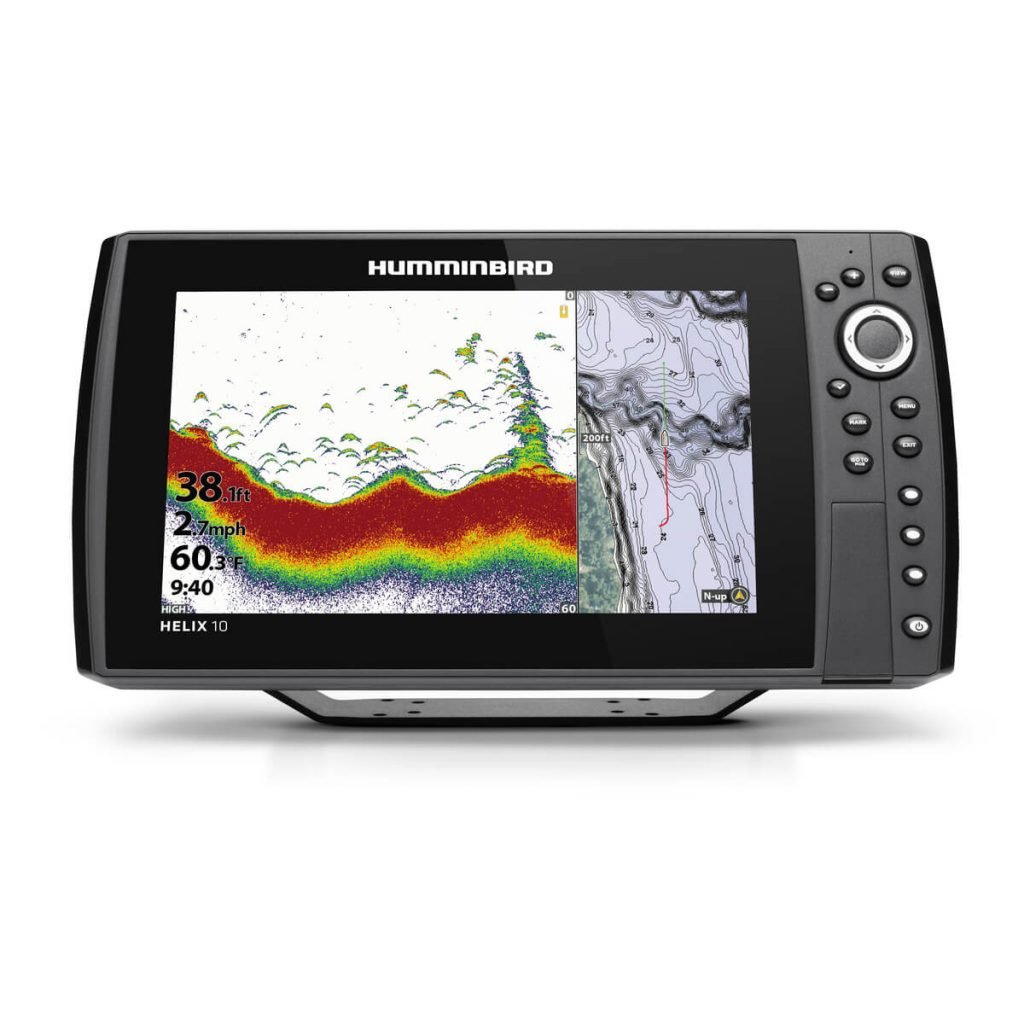 The Humminbird Helix 10 stands as one of the largest and strongest in the Helix line. With an impressive display and even more impressive sonar and imaging types, this powerful fish finder is ideal for those who are serious about fishing. Not only that, but this has been significantly upgraded to include the newest technology. This is made to help with every fishing adventure, from the occasional day out to staying out for long stretches of time. Our review will go over the main features that you can expect from this fish finder.
General Overview
You might think this 10-inch fish finder is bulky considering the large screen, but you would be mistaken. This model only measures 13.44 x 7.12 x 4.2 inches, and it weighs less than 5lbs. You'll have no problem placing it nearly anywhere with ease.
Not only that, but the Helix 10 has many upgrades based on customer demand and what the newest technology has made available. You also get premium charts, an accurate GPS, Ethernet connection, and much more.
On top of everything, the Helix 10 is very easy to navigate. You'll have no problem finding what you need when you need it.
Display and Resolution
The Helix 10 features a 10-inch display with a 16:9 display ratio and 1024-by-600 HD resolution. This is one of the best resolutions for this class of fish finders. It also is extremely bright at 1500 nites. You'll find that the bonded-glass screen ensures incredible viewing angles, plus you can easily see the readings during the dead of night or in the bright sun.
360 Degree Imaging
The Helix 10 includes 360-degree imaging that allows anglers to see everything around their boat. This gives you a total of 300 feet, or 150 feet on each side of your boat. The image updates frequently, which allows you to see as fish enter or exit the area. Plus, you can easily monitor the underwater structure for plant life or anything that might obstruct your vessel or where fish may be hiding.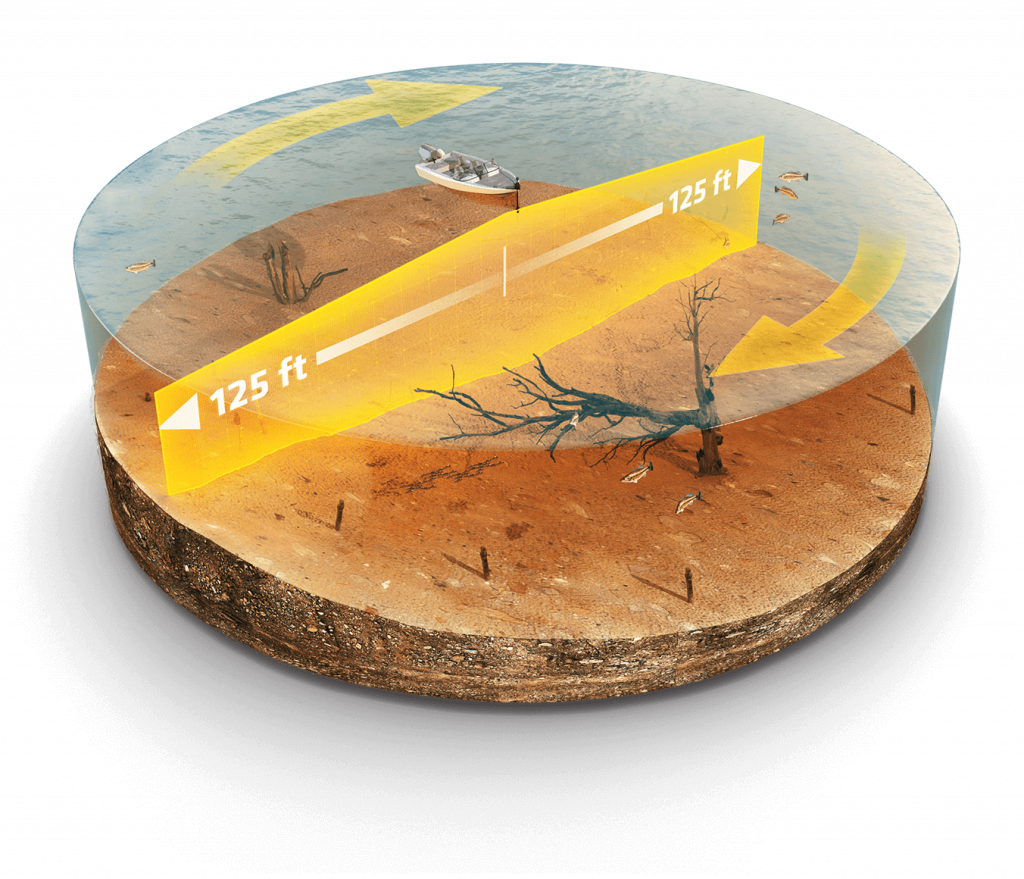 Dual Spectrum CHIRP
The Helix 10 gives you two ways of using CHIRP: Wide Mode and Narrow Mode. Wide Mode gives you larger coverage. It reduces the image quality somewhat, but in exchange you can see a much larger area. When you know where to check, you should switch to Narrow Mode. This focuses on a specific area and enhances image quality. CHIRP is ideal for finding fish arches and performing overall scans of the water.
There's also a Full Mode that combines the two and their best properties. This is ideal for seeing as much as possible with the highest clarity.
Side Imaging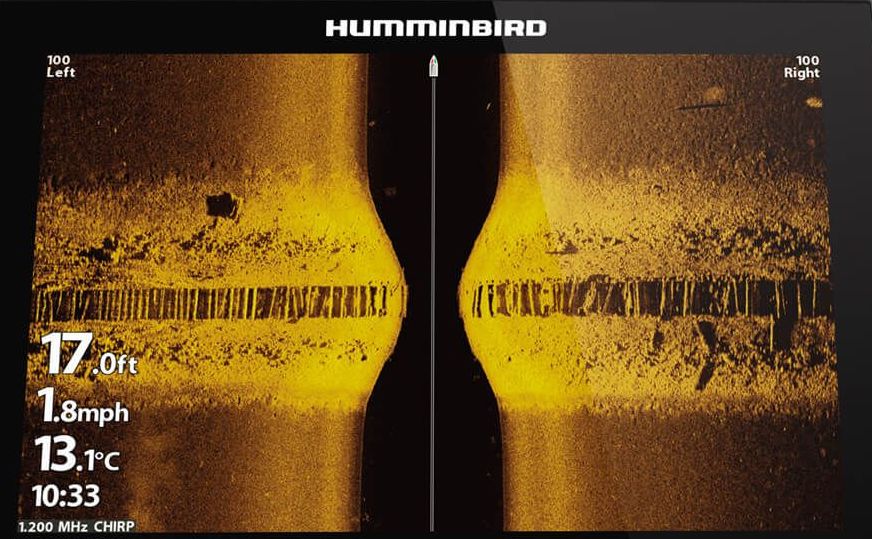 Depending on the model you choose, you might have regular side imaging, or you can get the fully upgraded MEGA Side Imaging+. Side imaging in general shoots out beams to the left and right of your vessel so that you can see directly to the sides. It's ideal for finding nearby fish or close water structures.
MEGA Side Imaging+ uses a high frequency for the best image resolution possible. It's nearly photographic. Humminbird claims that this is 20% more detailed than other side imaging types, and it's 60% farther than the previous Mega Side Imaging.
The distance depends on the frequency. It's 250 feet at 800kHz, 400 feet at MEGA, and 800 feet with 455kHz. While MEGA isn't the furthest, it's the best clarity.
Down Imaging

Much like with side imaging, you also can get MEGA Down Imaging+ depending on which model you choose. Down imaging in general covers right below your boat. It's like a fish's point of view and it puts you right in the water. You'll be able to see what's swimming around your vessel, and it's also easier to make out any obstructions or hiding places that you need to know about.
While traditional down imaging is fairly clear, MEGA Down Imaging+ is the clearest on the market right now. This ensures that you get fantastic image quality, and it makes it even easier to determine what is near your boat. Down imaging is general usually doesn't have the same max distance of other imaging types, but since it's right under your boat you often don't need many hundreds of feet.
As with side imaging, there are several frequencies to choose from. You get 125 feet at 800kHz, 200 feet with MEGA, and 400 feet at 455kHz. Unless you really need either closer or further away, choosing MEGA is the best overall.
GPS


The internal GPS accurately tracks your position and connects directly to Humminbird Basemap. This includes charts for more than 10,000 lakes and coastal coverage for the whole USA. You'll get a clear view of nearby points of interest along with the underwater terrain. Plus, you can easily identify day markers, buoys, hazards, contours, depth markers, and more with the Humminbird GPS.
On top of that, you can also connect the GPS to premium charts. You can choose from LakeMaster, CoastMaster, and Navionics. This allows you to get even more detailed maps that are ideal for finding fish and if you love adventure. These are upgrades and cost a little more, but they add a lot of value to your fish finder.
AutoChart Live

Do you like to make your own real-time maps? AutoChart Live allows you to map out your fishing spot while giving you all the LakeMaster features (as long as you purchased this map upgrade). While the preloaded maps are very accurate, this allows you to map the conditions as they are right now. This includes bottom hardness, map contours, vegetation, fish, and much more.
The fish finder allows you to record for 8 hours, but you can expand this by using SD cards for extra memory.
Conclusion
The Humminbird Helix 10 comes with all the features you need along with MEGA scanning for enhanced clarity. If you're looking for a large and advanced fish finder, then the Helix 10 has everything that you need. Plus, it's surprisingly sleek considering its large display.
You might also want to check out my best fish finder post to browse more models out there.