Simrad Go5 XSE Review (ForwardScan Can Show You What is Ahead)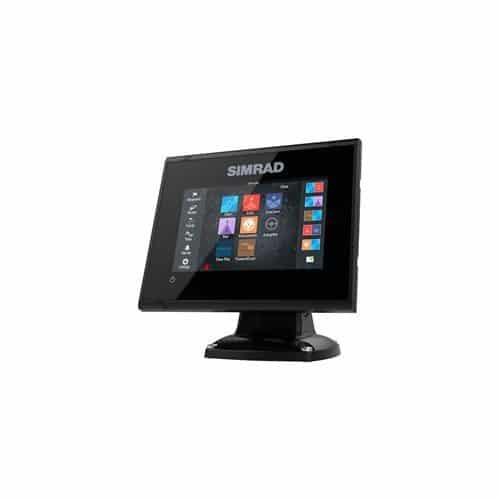 The Simrad Go5 XSE, or Extended Sonar Edition, is a powerful little fish finder made for day-boats, small sports-boats, coastal fisherman, or anyone who needs a fish finder and chart-plotter in small spaces. While Simrad Go5 might be too small for larger vessels, it packs tremendous power in a small unit.
Simrad is known for their beautiful displays and simple user interfaces. Is that enough to make the Go5 right for you? Read our Simrad Go5 XSE review and find out.
Display and Resolution
A convention among fish finders is to name the model after the screen size, so the Go5 is a 5-inch model.
As stated before, Simrad is known for their displays and user interfaces. The resolution is 480×800 WVGA. This gives you clear readings and you can easily make out fish, debris, and the landscape. The colors are vibrant and you'll never have to worry about the images looking fuzzy or distorted.
The brightness is 1200 nits. Simrad fish finders are bright enough to be seen in any lighting. Whether it's late at night or the sun is directly overhead, you'll make out the transducer readings with ease.
User Interface and Touchscreen
Some fish finders use a touchscreen, others use physical buttons, and some use a combination of the two. The Simrad Go5 XSE is completely touchscreen. There are no physical buttons, but the layout is so clean and simple that you won't even miss physical buttons.
The interface uses large digital buttons that you can easily select. You can choose between any of the single views (StructureScan, Echo, Chart, etc), or you can select a combination of the two. There are several default combinations, and you can create other ones with ease.
Those looking for a simple experience will enjoy the Go5's interface. It's easy to use and you'll understand it in seconds.
Wireless Connectivity
Do you want to move around the ship, but you're worried about not seeing something on the fish finder? Simrad Go5 XSE allows you to wirelessly connect to the device with your smartphone or tablet. Not only can you view the exact same readings, but you can also control the fish finder as well.
Switch between views, chart plots, and check to see if there's any fish in the area. This is convenient and simple to set up.
GPS Capabilities
The Simrad Go5 XSE has a built-in GPS with preloaded maps. While the stronger Go models have other options (Go7 and Go9), you can only choose C-MAP Pro with Go5. It also has built-in Insight mapping with maps of US lakes and coastlines. Maps can be updated through a WiFi connection and there are consistent updates.
There is room for a microSD card to save more maps and waypoints. While stronger versions of Simrad Go allow for dual memory cards, the Go5 only allows you to use a single 32GB memory card. However, since GPS data requires very little memory, you can store thousands of points with ease.
One thing of note is how fast the GPS works. This has a 10Hz GPS. It will track you in real-time and loads maps and your position very quickly.
CHIRP Sonar
Simrad Go5 XSE comes loaded with three sonar scanning methods: CHIRP, DownScan, and ForwardScan. You need a compatible transducer, which is common in all fish finders. CHIRP sonar is a type that combines frequencies to give you clearer images even from far distances.
While this used to be a military-specific sonar technology, it has become common for fish finders. This can be used for overall scanning and to see what's in the area. While your sonar frequencies might differ based on the transducer, this commonly has a 83/200kHz CHIRP frequency.
DownScan
This also goes by Down Imaging. This sonar type looks directly under the boat. It's a highly concentrated beam that gives you very clear images. It's like you're under the boat and swimming alongside the fish. This is what you'll use to see if that's really a fish or just a convincing piece of debris floating under your boat.
The Simrad Go5 XSE's DownScan typically operates at 455/800kHz. This should be powerful enough to give you clear images. Be sure to use this when you get close to your target area.
ForwardScan
Simrad Go5 also has ForwardScan. This is similar to StructureScan, which gives you imaging around the structure of your vessel, but the imaging is a little more forward-oriented. This gives you a 2D image from around your boat and the terrain right ahead of you. While this might help with catching fish, this view is actually meant for navigating new waters or those that are poorly charted.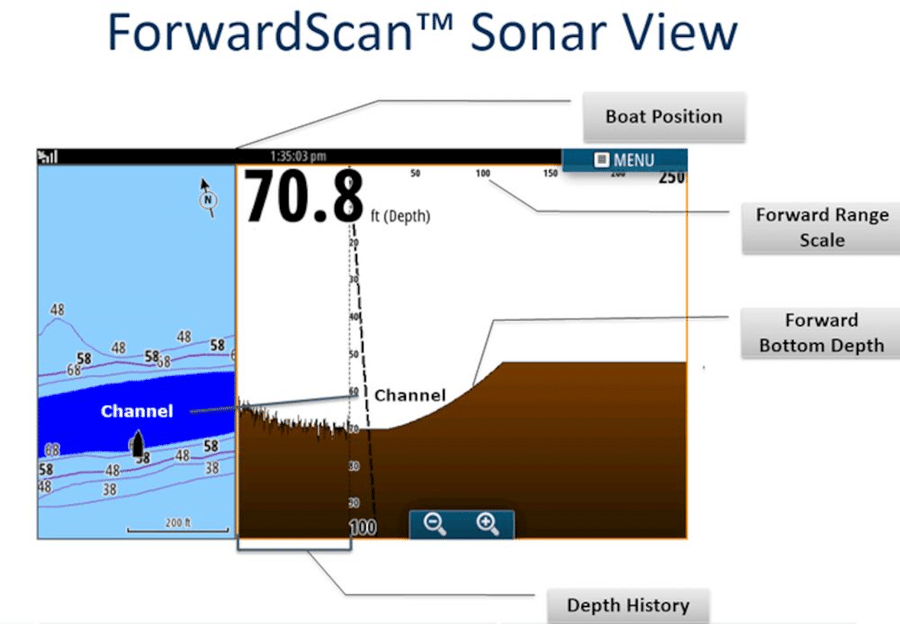 ForwardScan can show you what is ahead and if there are any areas that might damage your ship. You don't want to run aground and ForwardScan can help with that. Much like with DownScan, this operates at 455/800kHz.
Other Models
Here are some other models if Simrad Go5 XSE is almost hitting the mark, but not quite.
Affordable: Humminbird Helix 5
This comes in many iterations and you can get DownImaging, SideImaging, CHIRP, and so on. It's a versatile fish finder that has physical buttons. This model has been around for a long time and continues being very popular among fishermen.
Click here to read full review
Mid-Tier: Simrad Go7 XSE
Similar to the Go5, but with a large 7-inch screen and even more power and features. If you have a bigger boat or want a stronger fish finder, then consider the Simrad Go7 XSE. It has many of the same benefits, but it's better overall. For a larger screen, better connectivity, and just a small increase in price, the Go7 is the right model for you.
Click here to read full review
Premium: Simrad Go9 XSE
If you're looking for a large, premium fish finder, then the Simrad Go9 XSE has everything you need. This massive 9-inch fish finder is one of the strongest Simrad models available. It uses state-of-the-art marine technology to make it easier than ever to find nearby fish, chart plots, and to ensure safe travel through the water.