Lowrance Elite 9 Ti2 Review 2023 (Featuring Map in Real-Time)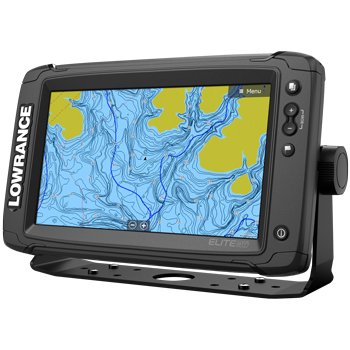 Some people fish because they want to relax while others fish because they want to catch something. If you're part of the latter group, then you'll want a professional fish finder to discover the best spots to cast your line. The Lowrance Elite 9 Ti2 is one of the top models with premium features, fantastic scanning depths, and a large, bright screen that ensures you can easily see the fish swimming around you.
Display and Resolution
One of the most distinguishing elements we found during our Lowrance Elite 9 Ti2 review was the display. While the resolution numbers and brightness sound like many other Lowrance models, this one comes packed with SolarMAX technology. This creates one of the brightest, most colorful screens we've ever seen. The colors are so vibrant and clear it's astounding.
What about the resolution and brightness? The Elite 9 Ti2's resolution is 800×480 pixels. You'll find this same resolution with other top-tier fish finders. It gives you a clear image of the sonar findings, ensuring you can detect the nearest fish with pinpoint accuracy. The screen is rated for 1,200 nits of brightness, which ensures you can easily see it both in morning and night. The pure white LED backlight ensures all colors are bright and vibrant no matter when you're using the fish finder.
As with other Lowrance models, all the buttons are easily accessible and the touchscreen works well in any condition. Whether this is your first fish finder or an upgrade, you'll have no problems figuring it out.
Wireless Connectivity
The Elite 9 Ti2 is the first Elite fish finder that doesn't require cables to share waypoints, sonar, or route data with other Elite models. This is all thanks to the wireless networking feature. Whether you have multiple fish finders running simultaneously or you're fishing with friends nearby, this makes it easy to connect all the models on the same network.
You can use both Bluetooth and internal WiFi with an 802.11 b/g/n connection. This lets you download software updates without any wires along with C-MAP Genesis maps. You can also upload service reports if tech support is needed.
Lastly, you get smartphone integration. You'll get notifications if fish are in the area, so there's no reason to watch the fish finder like a hawk. You can focus on more important things, like talking to your friends or getting your tackle ready for a successful fishing trip.
Active Imaging
Active Imaging is a new sonar that combines CHIRP and another scanning for unparalleled clarity and high-resolution imaging. You can see fish swimming out in the open along with common fish-holding areas like stand timber, rock piles, ditches, and more. Not only is the image clearer, but this sonar scans deeper than any other.
FishReveal
If Active Imaging isn't clear enough, then you should try FishReveal. This is a newer feature for Lowrance fish finders that makes it easier to find fish hiding around cover. This combines traditional CHIRP and Downscan imaging for near-photographic results. You can easily access this feature from the front screen to see any fish hiding around you. They won't be safe as long as you have FishReveal.

Scanning Types
This is a versatile model with several scanning types. You can use CHIRP, Downscan, Sidescan, and StructureScan. CHIRP imaging was initially sonar technology used by the military, but it's been in civilian hands for a number of years. Older sonars used a single frequency, but CHIRP uses multiple frequencies simultaneously to create clearer images.
Downscan is a powerful type of imaging that scans right under the boat. This is what you'll be using when you're getting ready to cast your line. It shows you if there are any fish around, or if the area is a dud. Sidescan is great for searching around the boat and can help determine if the area is full of fish or not. Lastly, StructureScan produces 3D images and it's meant for showing the contours around structures to see if fish are hiding there.
Map in Real-Time
The Lowrance Elite 9 Ti2 connects with C-MAP Genesis Live not only to display maps but also to update them in real-time. It can display areas of ½-foot contours and the map will move along with your boat so that you know exactly where you are. The screen follows you no matter how fast or you're moving. This detail and rapid updating ensure you can find areas that fish love like ditches, drop-offs, and points.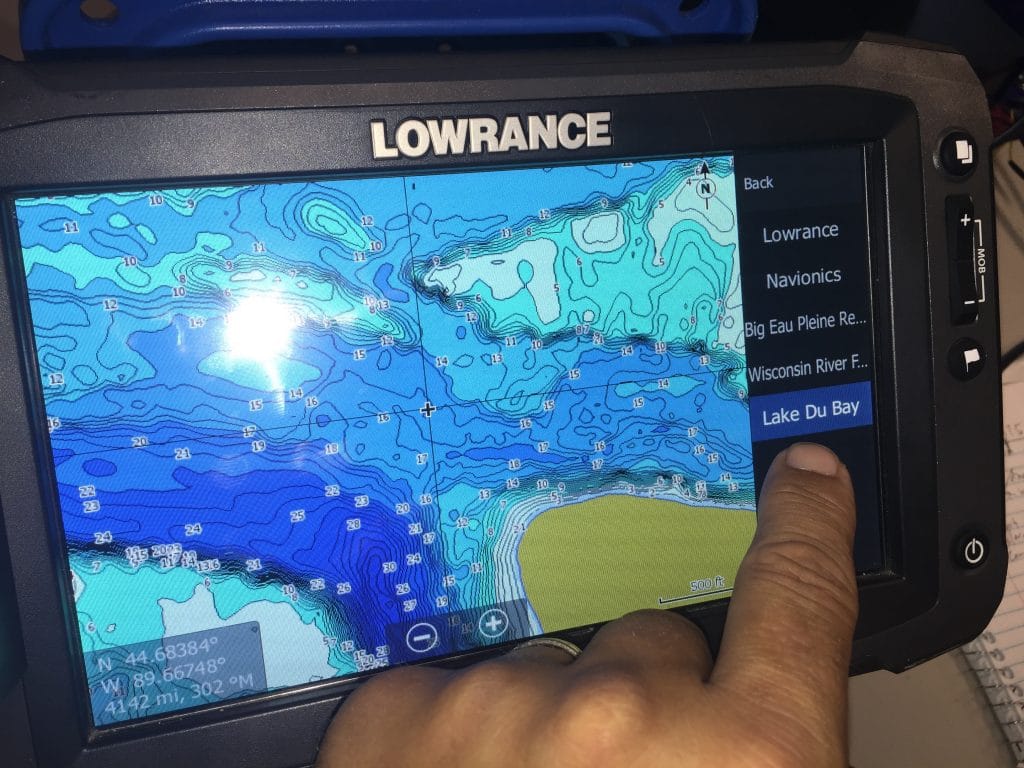 This is a highly customizable map as you can control contour density and transparency, choose safety shading colors, and much more. Any maps created in real-time are stored on the microSD card so you can easily access them whenever you want.
SD Card
You can use a microSD card to save your maps, waypoints, and more. This fish finder has a slot for one microSD card up to 32GB. That may not sound like much considering the memory limits of tablets and phones, but the files here are very small. You'll have no problems saving thousands upon thousands of waypoints and maps.
Quick Access Control Bar
Whether this is your first fish finder or not, you always want a model with easy controls. You don't want something complicated that makes it hard to switch between different imaging types and features. Not only is Lowrance known for being intuitive, but this model comes with the Quick Access Control Bar.
This puts all the features in one place. You'll have no problem choosing the exact imaging your want or customizing features until they're perfect.
Conclusion
The Lowrance Elite 9 Ti2 definitely deserves its spot as one of the best Lowrance fish finders available. The SolarMAX display is crisp and bright even at night, the imaging is spectacular and nearly photographic in quality, and you can even map in real-time no matter how fast you're going. This would make a fantastic fish finder for your boat. You can easily pair multiple fish finders together as well so they all work in conjunction, so don't be afraid to get two or more.
You might also want to check out my best fish finder post to browse more models out there.