Humminbird Helix 12 Review (Looking at MEGA 360 Imaging & AutoChart Live)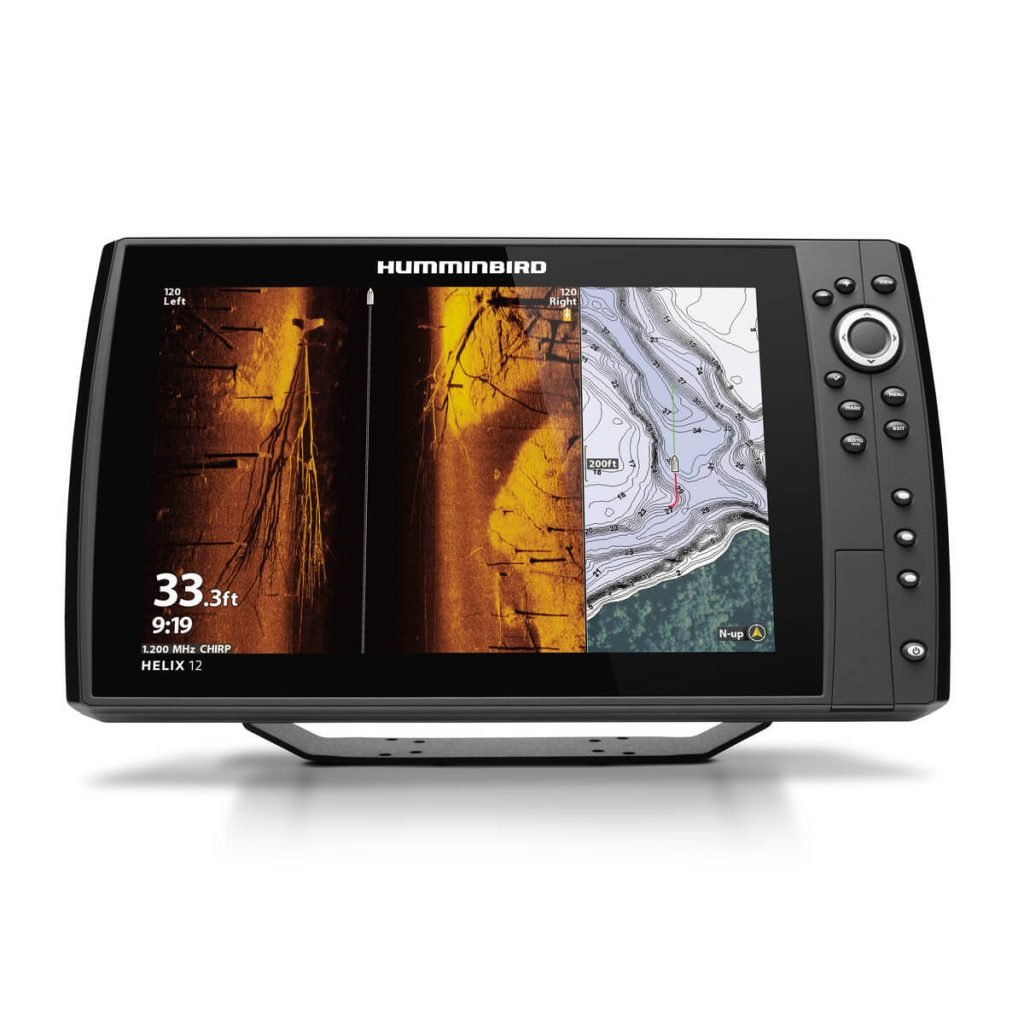 Many people like compact fish finders around 7 or so inches, but if you're tired of the small fish finders and want something large and powerful, then you need the Humminbird Helix 12. This massive 12-inch fish finder isn't just bigger than most other models. Depending on your model, you gain access to Humminbird's most sophisticated imaging types. Our review will cover the main features and show you why this is a great fish finder for those who want the best fishing trip.
General Overview
This is actually fairly sleak despite being one of the largest fish finders with its 12-inch display. It measures 14.86 x 8.52 x 1.36 inches, which is a great size that won't be obtrusive as it sits on your control panel. While it is larger than other models, it shouldn't be awkward to maneuver around. Plus, it mounts easily just about anywhere.
While many people might first initially choose this model just for its size, the truth is that Humminbird made sure to pack this with power and many sophisticated features. Depending on the model you choose (there are several available), you will get MEGA imaging like Mega Side Imaging and Mega Down Imaging. You also get premium charts, Ethernet port, a GPS, and many other features.
Humminbird also makes their fish finders simple to navigate. The control panel ensures that you can easily find the features, imaging, or other tools you need within seconds.
Display and Resolution
The Helix 12 is named for its large 12-inch display. This model has a crystal clear 1280-by-800 HD pixel resolution. Not only is this one of the best resolutions in its class (beating out other Humminbird Helix models along with many other brands), but it's also extremely bright at 1500 nits, which ensures easy viewing at any time.
The glass-bonded display helps increase viewing angles and removes glare. Another benefit of this and the brightness is that you can view the sonar readings during high noon and morning sun, pitch black night, or any other time of day.
MEGA 360 Imaging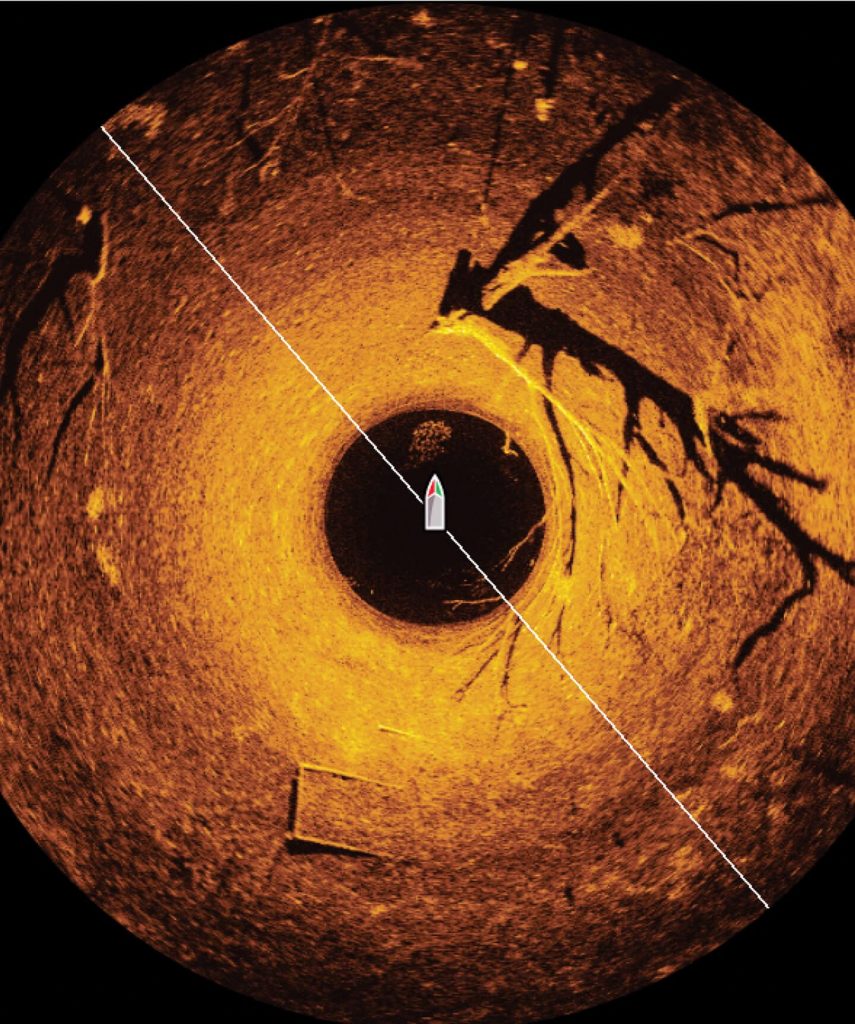 Nearly all iterations of Helix 12 include 360-degree imaging, but if you want the best version, then get the G4N variants with MEGA imaging. These come with MEGA 360 Imaging, which gives you the clearest readings around your vessel. This gives you a sweeping view of 125 feet around your boat. The image updates quickly to show fish or structures entering or exiting the radius. This is fantastic for monitoring the area and getting near-photographic results.
Dual Spectrum CHIRP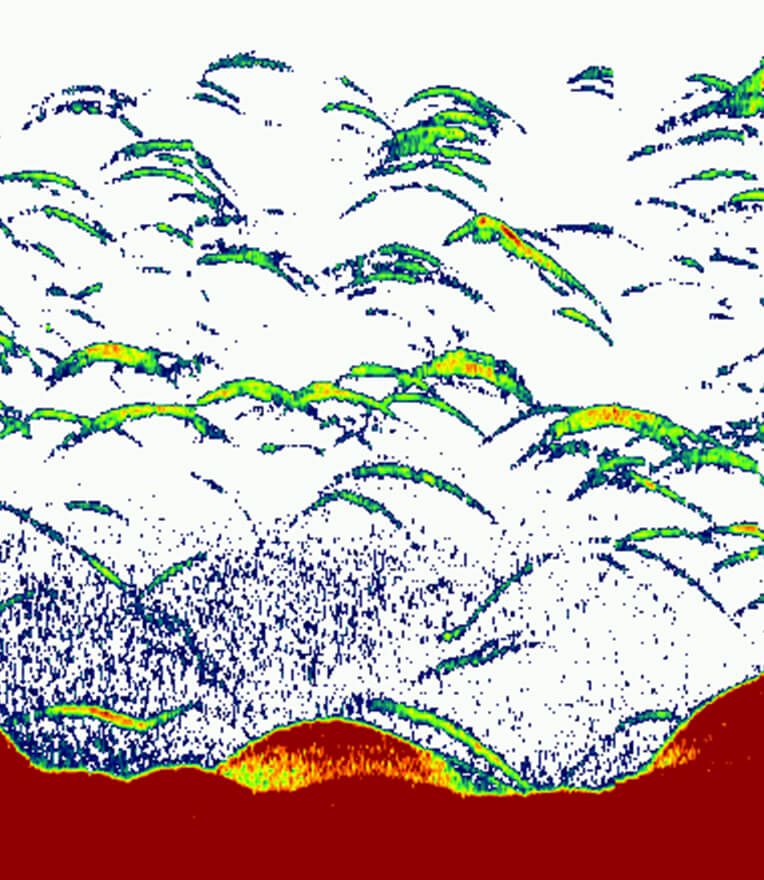 The Helix 12 comes with dual spectrum CHIRP. That might make it sound like there are two modes, but there are actually three that you can choose from. Wide Mode casts a signal out between 140-200kHz and it's good for seeing a large area. The image quality suffers somewhat from the wide radius, but that's to be expected. Once you find your target, you can then switch to Narrow Mode between 180-240kHz. This reduces the effective size, but the image quality goes up significantly.
Between the two is Full Mode, which combines the best qualities of both Wide and Narrow Mode. This is between 150-220kHz and it's good if you want a quality image with good distance.
Side Imaging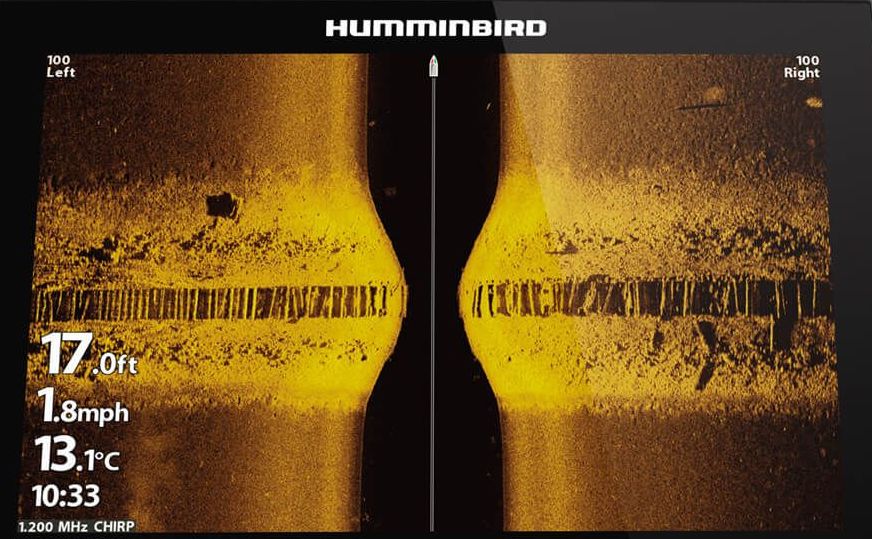 Humminbird has been pushing the limits of side imaging and their newest model now includes MEGA Side Imaging+. This is an upgrade from regular side imaging, and even an upgrade of their previous MEGA Side Imaging (without the plus sign). This imaging type sends out beams to the sides of your vessel, allowing you to see both the left and right sides simultaneously.
MEGA Side Imaging+ uses a high frequency that is shorter than some other frequencies, but it gives you the best image clarity. Not only that, but it's 20% clearer and 60% farther than the previous MEGA Side Imaging.
You have three frequencies to choose from. You get 800 feet with 455kHz, 400 feet with MEGA, and 250 feet with 800kHz.
Down Imaging

This section will be very similar to side imaging because Humminbird also upgraded to their newest MEGA Down Imaging+. Again, be sure to check the exact model to see if you're getting this or another type of down imaging. This gives you a view right under the boat, putting you right where the fish are. You'll want to use this if you think the fish are just under you, or if you want to see the underwater structure.
This imaging type is known for its clarity, but Humminbird has also pushed this to its limits and has enhanced the resolution. While this doesn't have the same distance as CHIRP or side imaging, it really doesn't need it since the view is directly under and around your vessel. Unless your target is really deep, you shouldn't need hundreds and hundreds of feet.
There are several frequencies to choose from. You get 400 feet at 455kHz, 200 feet with MEGA, and 125 feet with 800kHz. MEGA is ideal for overall clarity, but the other two are useful if you need a closer or deeper look.
GPS
The Humminbird Helix 12's GPS is highly accurate and connects with Humminbird Basemap. This gives you access to more than 10,000 US lakes along with coastal coverage. Not only that, but Basemap includes points of interest such as hazards, day markers, contours, buoys, depth markers and more. You can also mark up to 2,500 waypoints along your trip.
While many people will like Basemap, there are also premium charts you can add for an extra fee. This includes Navionics navigation, LakeMaster, and CoastMaster. These upgraded maps have even more details and make it easier than ever to find great fishing spots in your area.
AutoChart Live

If you want to make your own real-time maps, then AutoChart Live will be an essential upgrade for you. This connects to LakeMaster and allows you to record data as you move along the water. While LakeMaster and other preloaded maps are accurate, things change. AutoChart Live allows you to record these changes. For example, this can track vegetation, bottom hardness, contours, fish, and more.
If you don't have any SD cards, then you can record data for 8 hours. However, you can dramatically increase this by inserting a memory card.
Conclusion
If big fish finders are your thing, then the Helix 12 will serve you well. It comes with a tremendous number of features, a lot of power, MEGA imaging for the best image clarity, and so much more. While it's a bit of a niche item (many people prefer smaller fish finders), this unit is surprisingly compact considering its size. Give it a try if you want a strong fish finder that doesn't cut any corners.
You might also want to check out my best fish finder post to browse more models out there.