Best Ice Fishing Fish Finders and Fishing Flashers (Reviews and Buyer's Guide)
Ice fishing is highly skilled and very difficult, especially if you don't use technology. It isn't unusual to sit for hours in the frigid cold and catch nothing. However, you can change that by using the right ice fishing fish finder or fish flasher. The human eye can't see under the ice, but a fish finder can.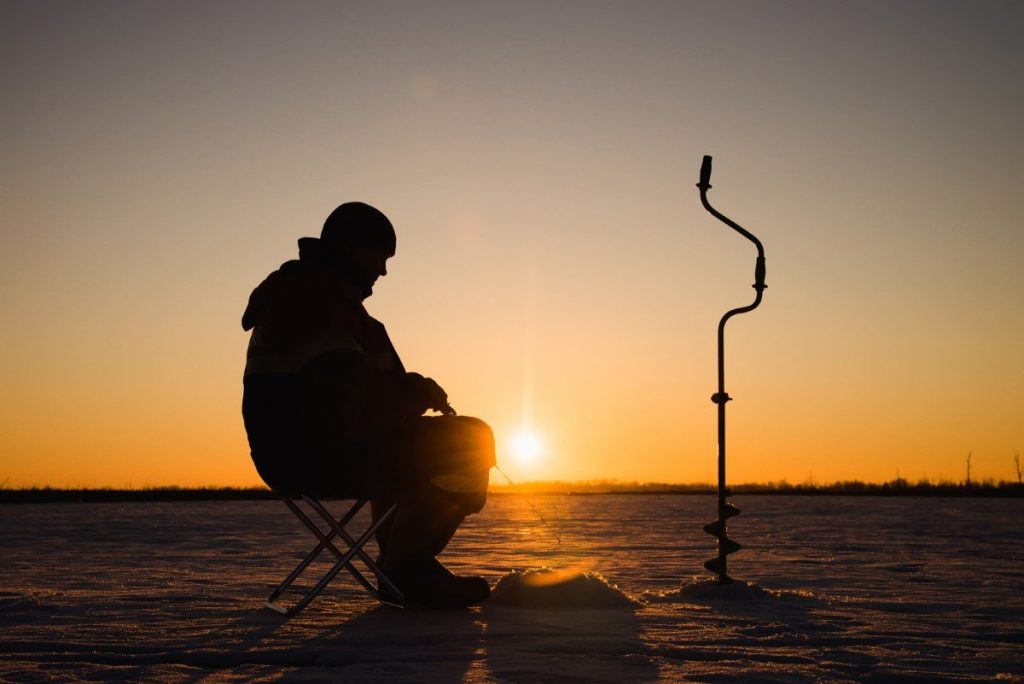 We have selected the best ice fishing fish finders and collected them here for you. Along with the top 10 models, we'll also show you what to consider when in the market for this fishing equipment. These allow you to enjoy the cold while also ensuring you find the best spot to cast your line.
Things to Consider
How do you determine which ice fishing fish finder is right for you? This buying guide will show you the most important factors to consider when choosing between different models. We made this part for beginners and experts alike, so everything can figure this out together.
Type of Fish Finder
Ice fishing fish finders come in three main types and each has their pros and cons.
Fish Finders: also known as traditional fish finders, these are portable sonars that read underneath the ice and show you a graphical representation of fish, vegetation, and anything else under the ice. While most commonly used on boats, there are portable units for ice fishing.
Castable Finders: similar to traditional fish finders, but these connect to your line. The readings are similar, but tend to be more accurate. You will pair the finder to your smartphone or other device to see the readings.
Fish Flasher: these show a ring of color that shows you where the fish are and how big they are. Green is for small fish while red is for bigger ones. These are for advanced anglers and they can help you determine how to move your line to interest the biggest fish.
Portability
Unlike a boat where you can easily mount a large 9-inch fish finder, you're sitting on the ice without a vessel. Sure, you could bring a massive fish finder, but that would be inconvenient. You'll want the unit to be portable and easy to carry. Anything larger than 7 inches could be cumbersome given the ice fishing environment.
Display
You'll want to consider both the resolution and backlight. The resolution determines how clear the image is. You'll want good resolution to ensure you can easily see the sonar readings. Light can be harsh while ice fishing, so make sure the fish finder is easily viewable in all lighting conditions.
Frequency
Ice fishing fish finders come in single or multiple frequencies. Multiple tends to be better overall as these units are more flexible, but single is more affordable and can be good if you find a frequency that works well for your needs. Higher frequencies work better for shallow water while lower frequencies are better for deeper waters.
GPS
This is an optional but very helpful (and common) feature of fish finders. A GPS can help you determine your course on the ice. This is especially helpful because there are often fewer landmarks to help orient yourself, so getting back to a certain spot without a GPS can be tough.
Sonar Readings
What type of imaging is available? Traditional sonar is basic, but gives you an accurate reading of fish under the ice. CHIRP is even more accurate as it uses both high and low frequencies simultaneously. There are many imaging types, so consider what you can get within your budget as this can help you get accurate readings when you need them.
Depth and Targeting Cone
You want to consider how deep you need the finder to search. Some can peer hundreds of feet under the water. Consider the type of fish you want to catch and where they normally reside. This will help you determine how far the depth must be.
There's also the targeting cone, which is more common with fish flashers. A more narrow cone is often better for ice fishing as this provides a more accurate view of the fish, but a broader one might be less expensive and helps you see more fish nearby.
Best 10 Ice Fishing Fish Finders
Humminbird ICE-55 Review
The Humminbird ICE-55 fish flasher uses a 6-color fiber optic display that makes it simple to determine the size and location of fish. There are also many adjustable elements of the flasher for precision accuracy. You can adjust the gain sensitivity along with the depth so that you only find fish you're interested in catching.
This is a dual-beam fish flasher with two strengths. You can use a narrow or wide beam. Narrow beams project further into the water while the wider beam is shorter, but reaches wider angles. Switching between the two is as easy as turning a knob. Speaking of which, the fish finder only has knobs and buttons, so it's very easy to operate. Whether this is your first flasher or your newest, you'll find this simple to use.
You'll find the ICE-55 fish flasher is highly portable and small enough to fit a five-gallon bucket (which nearly every ice fisher has with them). The carrying case has a handle as well for easy carrying. You can expect the battery to last about nine hours on a full charge, so stay out all day and catch all the fish you can.
While fish flashers are for advanced users, this is one of the most intuitive on the market. If you want to try this type of technology, then the Humminbird ICE series is definitely one of the best. Give this a try and you'll see how precise and accurate it is.
Garmin 010-01550-00 Striker 4 with Transducer, 3.5″ GPS Fishfinder with Chirp Traditional Transducer Review
Whether you prize portability or power, the Garmin Striker 4 with transducer excels in both. Plus, it's also quite affordable due to its small size. The 3.5-inch screen has relatively high resolution, is colorful, and allows you to simultaneously show two sonar readings. The ClearVu CHIRP sonar uses 50/77/200kHz frequencies to create clear, crisp images of anything under the ice.
The depth ratings for this fish finder are 750 feet in saltwater and 1,600 feet in freshwater. However, ice might block the signal, so these depths might not be possible for ice fishing. Regardless, it can still peer deep into the water and show you exactly what you're looking for.
Along with the CHIRP sonar, there's also a fish flasher feature and a GPS. This allows you to try advanced angling with the flasher, and the GPS ensures you can find your way to the perfect fishing spot. It's the perfect combination of all the features you need for a fun ice fishing adventure.
At just 8.1 ounces, this is one of the most portable fish finders you can get. It's also IPX7 waterproof, which can be helpful if it slips out of your hand. The interface has physical buttons that allow you to access all the imaging types and to change the screen at will.
If you're looking for a portable ice fishing fish finder with a mix of power, precision, and features, then the Garmin Striker 4 is exactly what you're looking for. It's tremendously versatile and will help you find any fish you're after.
Deeper Pro+ Smart Sonar Fish Finder Review
The Deeper brand made some of the first castable fish finders, and the Deeper Pro+ is one of their strongest units (definitely the best for the price). While it was made with kayaking in mind, it works just as well with ice fishing, especially in terms of portability. The finder fits in your hand and easily connects to your line. You can cast up to 330ft or 100m and still get a reading.
You might be wondering how you see the sonar if the fish finder is on your line. This connects to any compatible phone or tablet. You'll see the sonar readings from your device. It can scan 260ft down into the water and even creates bathymetric maps as you hop from hole to hole while ice fishing. They even have a proprietary bathymetric platform called Lake Book.
Scanning is done with two beams. Choose the wide 90kHz beam or the narrow 290kHz beam to help find nearby fish. Narrow beams are often better for ice fishing, but it's best to have as many tools as possible. There are even targeting features to help you better find the exact mark for the best fish. All data you produce is saved in the cloud. This ensures you can easily retrieve the data if anything happens.
Deeper Pro+ is incredibly fast. It uses a WiFi connection instead of Bluetooth, which ensures the fastest scanning. This sends 15 scans per second, and can claim accuracies up to 1-inch from the target, which is fantastic. If you want a versatile and simple fish finder that's incredibly portable, then try the Deeper Pro+ Smart Sonar Fish Finder.
Venterior Portable Rechargeable Fish Finder Review
This is another castable fish finder like the Deeper Pro+, but with a very important difference. This one has a dedicated 2.6-inch display that connects with the fish finder itself. The TFT LCD display has two different background colors: black or white. Choose the one that works best for you. Both use icons to show where fish are and approximately how big they are.
You can connect the wireless finder to your line, or you can let it float on the water. Either way you'll be getting clear sonar readings from under the water. The sonar reaches 2.6-131 feet with a wireless connectivity distance of 262 feet. Both the sonar and handheld unit are rechargeable and last for many hours.
This model is surprisingly accurate and features 20 levels of sensitivity. You can also adjust the brightness on the handheld unit to make it easier to see, or to conserve battery life. It should last about 3 hours at 100% brightness and 6 hours at 10% brightness. The single-beam sonar operates as 125kHz, which provides a clear and accurate image of what's beneath the ice.
The handheld unit has physical buttons and is easy to operate. You'll be able to see the bottom contour, fish icons and depths, water temperature, battery life for both the handheld and sonar, and a depth scale.
If you want a castable fish finder with a dedicated display, then the Venterior Portable Rechargeable Fish Finder is ideal. It's simple to use and you won't have to dedicate your phone or tablet to the fish finder, which might be preferable for some ice fishers.
HawkEye FishTrax 1X Portable Dot Matrix Fish Finder Review
HawkEye FishTrax 1X is a unique model that uses a dot matrix display that is highly readable. The VirtuView display is completely glare-free and includes a backlight so you can view the sonar information whether it's bright, dark, or any other lighting condition. You'll have no problem finding where fish are hiding and strike at the right spot. Speaking of finding fish, this uses fish icons so that you have an easier time figuring out what's a fish and what's debris or another convincing object.
The floatable sonar can be mounted to your boat, but that's not what you're looking for with ice fishing. You can place this over the water and the sonar will float on the surface while the handheld unit picks up the readings and displays them. You'll see the bottom contour, depth, structure, and more. There are 10 levels of sensitivity adjustment and multiple depth ranges. Simply adjust these to your preferred setting and you'll see fish exactly where you want them.
There's also auto-zoom tracking and a smart, auto-switching dual-beam sonar. This combines distance and accuracy, allowing you to clear read up to 240 feet with extreme precision. This dual-beam switching does more than just increase distance and accuracy. You'll find that this allows the sonar to easily read between weeds and other obstacles that might stop other sonars.
If you want an extremely precise and floatable fish finder with a glare-free display, then consider the HawkEye FishTrax 1X. It's a surprisingly strong model with many features, and the smart sonar ensures you have the best view depending on your needs.
MOOCOR Underwater Fishing Camera Review
This is a very unique fish finder for ice fishing. Nearly every other model here has used sonar to either display an image or flash colors for the fish's position. This fish finder is an actual camera that you place into the water to see exactly what's going on. It has a dedicated display that will show you exactly what's down there. While this means you can only see fish in the camera's view, it also dramatically improves clarity.
The camera is a sophisticated 1000TVL HD camera with infrared LED lights. Whether it's bright or as dark as 0.001Lux, this will show you what's underneath the ice and water. You can turn the IR lights on and off as needed. This will ensure you get the most accurate view depending on the lighting under the ice. Of course the camera is completely waterproof and you'll have no problems keeping it submerged as long as needed.
You might be worried about the cable snapping or corroding, which would result in you losing the camera. The cable can withstand 40kg of tension, -30 C degrees, and it's 49 feet long. This is a strong cable that will keep the camera safe.
The camera is attached to a 4.3-inch LCD display that shows you the camera feed. It has a resolution of 800×480 and has a battery life of 8-10 hours. It comes with a sun visor to ensure easy viewing in any lighting. There are also buttons on the display to zoom up to 4x and there are several brightness levels to improve viewing.
If you want an extremely clear, picture-perfect view of what's going on under the ice and water, then this might be the best ice fishing fish finder for you. This would work perfectly in tandem with a sonar to give you an even better view, or use it on its own and see how easy it makes ice fishing.
Marcum LX-7 Ice Fishing Sonar System/Fishfinder – LX-7 Review
We've explained how fish flashers are advanced and you need a fine eye to read them properly. However, if regular fish flashers are boring to you or not nearly sophisticated enough, then maybe you need to upgrade to the Marcum LX-7 Ice Fishing Sonar System. This is a highly customizable digital fish flasher with multiple views and a large screen.
There are four color palettes to choose from to match your needs. The dashboard allows you to choose the exact depth, range, battery voltage, gain, and so on. You can also choose between vertical zoom, water column vertical readings, and different transducer cone angles, either 8 or 20 degrees. There's only a 0.5" target separation, so cast your line with confidence.
In layman's terms, this allows you to find the exact fish you're looking for at a specific depth. It really doesn't get much more accurate than this. You must know how to read fish finders and there are a lot of settings to work with, but you're rewarded with very specific readings.
This all connects to a large 8-inch display with a resolution of 800×600. That's a little bigger than most ice fishing fish flashers, but the carrying case makes it quite portable. Also, this is so accurate that it would be a shame if we didn't include it.
If you're looking for one of the most accurate and advanced digital fish flashers, then the Marcum LX-7 fits the bill. It will take time to learn, but you're rewarded with a great fishing adventure.
Humminbird ICE Helix 7 Chirp/GPS G3 Review
The Humminbird ICE Helix 7 Chirp/GPS G3 effectively combines many of the best ice fishing equipment together into one unit. Like the ICE-55 we reviewed above, this one has a highly capable and accurate fish flasher. You can customize the depth and range to ensure you're seeing the best fish in a specific area. Use this to catch only the biggest fish and to easily read their behavior.
On top of that, you're also getting a CHIRP sonar that shows you a wider range of fish. This is useful for finding the best general area for fish, or to help set your flasher to the right depth. The CHIRP sonar is highly accurate as it combines high and low frequencies for the best picture possible.
This also comes with a GPS plotter to help you find your way. It connects to the Humminbird Basemap software along with Navionics and LakeMaster. This makes it very easy to find the best spots.
All of this is accessible on the 7-inch full color display. The screen is very bright and can be viewed in any lighting condition, plus it's easy to see the readings. You can have up to two views at once, so have the flasher and CHIRP, GPS and CHIRP, or any other combination at the same time. There are also six settings to make the sonar more accurate so that you only see what you want to.
If you want a highly capable ice fishing fish flasher and finder combined into one, then this might be the best unit for you.
Lucky Wireless Fish Finder Sonar Sensor Portable Sonar Fishfinder Review
If you're looking for an affordable and accurate fish finder that's ideal for ice fishing or other environments, then the Lucky Wireless Fish Finder Sonar might be right for you. This comes with a yellow wireless sonar that you place on the water. The sonar then feeds its readings into the wireless display, which shows you the bottom contour, depth, and fish icons to help you see what's in the area.
The sonar and display can connect up to 394 feet or 120m. The 2.2-inch LCD display is very clear and monochrome. Everything will be black and the fish icons are simple to see. This prevents interference from getting in the way, so you'll easily pinpoint nearby fish. You can also customize the zoom range, sensitivity, fish icons, and depth. An LED backlight makes this viewable both in the morning and night.
The sonar has a 90-degree detection angle. The depth detection ranges from 2.3 feet to 147 feet. You can also choose to tether the sonar to your line, or allow it to bob on the water freely. Connecting it to your line might not be required for ice fishing, but it's good to have the option.
This is completely battery powered and requires 4 AAA. That means no charging is required. Simply have some batteries with you and the unit run as long as you need it to. Whether you want to fish for a few hours or stay out all day, you can easily do it with this sonar.
If you want an affordable and accurate fish finder, then this might be the right one for your needs.
Vexilar's GP1812 FL18 Genz Pack 12Deg Ice-Ducer Review
Vexilar's GP1812 FL18 is considered a mid-tier product for Vexilar because it has more features than their entry-level unit, but is considerably more affordable than their top one. What you end up with is a fantastic fish flasher at a great price. Many people trust the Vexilar brand and even many people use the word "Vexilar" to mean any type of fish flasher.
As we've discussed before, this shows a bright ring of color that coordinates to a fish's size and location. Green for smaller fish, yellow for medium, and red for the best, most prized fish hiding under the ice. The highly accurate flasher will ensure that you easily find your target and properly lure it in for a great catch.
The FL18 uses an advanced 12-degree cone that is considered one of the most accurate at this price range. The narrow beam allows you to hone in exactly where you want. This ensures you aren't picking up fish that wouldn't care about your line. You're only finding and attracting those who will take the bait. This presents a very clean reading.
The batteries are rechargeable and last a long time. You'll have no problem taking this out for hours and getting accurate readings the whole time. There are several adjustments you can make for optimal accuracy. There are physical knobs for gain, mode, and range. In just a few minutes you'll get the perfect read and the fish will have no chance against you.
If you want an advanced fish flasher that's extremely accurate and made by one of the top brands, then consider the Vexilar FL18.
FAQ
Who Makes the Best Ice Fishing Flashers?
Ice fishing fish flashers are most commonly used by advanced ice fishers because they are harder to read, but are quite accurate once you understand them. They're actually one of the best ways to catch the biggest fish. While there are many brands that make fantastic flashers, we would say that Humminbird, Marcum, and Vexilar are the top brands for flashers.
What's the Difference Between an Ice Fish Finder and Flasher?
Both are incredibly useful for helping you find fish under the ice, but they do so in radically different ways. A finder uses a sonar to show you a graphical representation of what's under the ice. You'll see the bottom contour, fish, and underwater vegetation.
A flasher is a circular device that flashes different colors to indicate the size and direction and fish. This is a little more advanced, but also incredibly accurate once you learn how to use it. Some devices feature both a sonar and flasher so that you can use them simultaneously.
What is a Target Cone?
This is seen more commonly with flashers, but it's also important for finders as well. The target cone basically states how wide the sonar beam is. For example, a 12-degree cone is 12 degrees wide, while a 19-degree cone is 19 degrees wide. A wider cone is able to see more, but it sacrifices some clarity to achieve this.
Since you're fishing from a tiny hole while ice fishing, most people prefer a very narrow cone. This ensures that you only see fish in your direct area. There's no need to pick up fish that are several feet from your spot unless you intend on moving.
What is Target Separation?
This is the minimum distance required for the fish finder to distinguish two objects. For example, let's say the target separation is 1 inch. If two objects are 0.5 inches apart, then it might say that it's only one object instead of two.
You always want a smaller target separation, especially if you're going after smaller fish or those that might cluster together. The smaller the separation, the more accurate the fish finder is.
How Big Should the Display Be?
Normally the bigger, the better, but that's not true with ice fishing. You'll want a bigger screen if you can mount the fish finder to a boat, but with ice fishing you're out there by yourself. You'll want an ice fishing fish finder that's portable and easy to carry. With few exceptions, we suggest 7 inches or smaller. You want to be able to easily carry the unit with you, and set it up without the finder being cumbersome.
Conclusion
Ice fishing can be very rewarding. It's a relaxing experience where you get to enjoy the frigid environment while trying to get as many fish as possible. Using the right fish finder or flasher will ensure that you find the perfect spot, and that you attract fish to catch. Just pick the right one for your needs and it will be your ice fishing adventure all the more enjoyable.